15 Must-Haves for Overpackers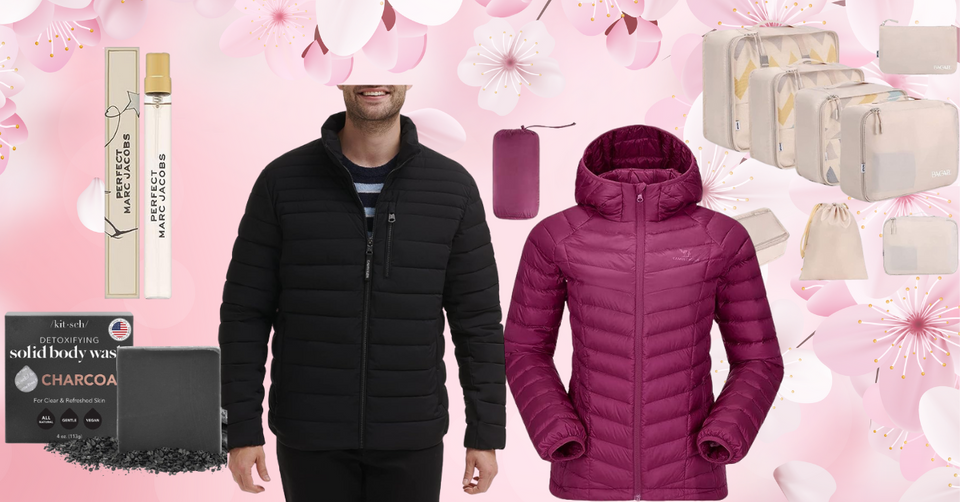 Embarking on a journey, whether it's an exotic escape or a quick weekend getaway, often brings along the dilemma of overpacking. The desire to be prepared for every possible scenario can lead to a suitcase stuffed to the brim. But fear not, fellow wanderers, for we have curated the ultimate guide to quell your overpacking tendencies. From versatile clothing choices to ingenious travel gadgets, our list of the '15 Must-Haves for Overpackers' is here to streamline your packing process without compromising on comfort or style. Get ready to master the art of packing light, efficiently, and with a touch of panache

LUGGAGE & ORGANIZATION
Are you the type of traveler who believes in "better safe than sorry" when it comes to packing? Do you find yourself struggling to zip up an overstuffed suitcase, only to realize you've packed items you never even touched during your trip? It's time to put an end to the overpacking saga and embrace a more organized and efficient way of traveling. In this section, we unveil the top luggage and organizational must-haves that will not only save you space but also ensure you have everything you need, right at your fingertips. From smart packing cubes to innovative compression bags, get ready to transform the way you pack and embark on your journeys with confidence.
Packing Cubes
Streamline your packing with Bagail's 8 Set Packing Cubes. Efficiently organize your clothing, accessories, and toiletries in a variety of sizes. Compression zippers save space, while translucent mesh panels grant quick content identification. Lightweight, durable, and adaptable to any trip. Embrace travel organization and bid farewell to overpacking stress.
Foldable backpack
G4Free offers a highly rated 10L/15L Hiking Backpack with a 4.6 rating from 1652 reviews. This compact and lightweight packable daypack is versatile, durable, and perfect for various activities. It features adjustable shoulder straps, ample storage, and a stylish design. Elevate your outdoor adventures with this top-rated backpack.
Foldable Travel Water Bottle
Discover the SPECIAL MADE Collapsible Water Bottle: a compact, leakproof, and eco-friendly solution. Crafted from BPA-free silicone, it conveniently collapses when empty, saving space. Its leakproof valve ensures mess-free hydration, making it ideal for travel. Embrace sustainability and style with this reusable companion for all your adventures.
Foldable Reusable Bag
I consistently include a collapsible, reusable bag from BeeGreen in my travel essentials. These bags hardly occupy any room in my luggage, yet their usefulness during my journeys has been remarkable. Although I appreciate the spaciousness of a travel tote, I prefer not to carry one while on the move. Instead, I opt for a compact purse or fanny pack and effortlessly attach one of these BeeGreen bags. This arrangement proves invaluable when I decide to shop – I can effortlessly unfold the bag and neatly stow away my purchases. Furthermore, these bags have come to my rescue during flights with stringent personal item allowances. By strategically packing my belongings into one of these generously sized reusable bags, I've transformed it into my essential personal item.
TECH
Technology items aim to simplify our lives, yet it's easy to feel overwhelmed by the abundance of gadgets for every minor task. As you gather your electronic devices, it's astonishing how they consume a significant portion of your luggage capacity. To counter this, presented here are a few products that will assist you in maximizing your space utilization.
Apple EarPods Headphones with Lightning Connector
Introducing Apple EarPods Headphones with Lightning Connector – the epitome of comfort and connectivity. These EarPods offer exceptional sound quality and feature a built-in remote for effortless control. Compatible with devices sporting a Lightning Connector and iOS 10 or later. Experience uninterrupted comfort and seamless connectivity with Apple EarPods.
Phone camera lens attachments
Transform your phone's camera capabilities  with Xenvo Pro Lens Kit for iPhone and Android. Also, available with 4-in-1 Lens Attachment Kit Selvim Phone Camera Lens. This kit offers a versatile range of lens options that bring creativity and professional-level photography to your fingertips. Upgrade your photography game with ease and capture stunning shots from every angle.
Kindle Paperwhite
Elevate your travel experience with the Kindle (2022 release) – the epitome of portability and convenience. As the lightest and most compact Kindle yet, it effortlessly slips into your travel bag. With its 6" 300 ppi high-resolution display, every journey becomes an opportunity to escape into a world of literature with unparalleled clarity and comfort.
BEAUTY + TOILETRIES
Embarking on a new adventure doesn't mean compromising on your beauty and personal care routine. In the "Beauty + Toiletries" section, we delve into a curated selection of travel-friendly essentials that will keep you feeling fresh, confident, and radiant no matter where your journey takes you. From compact skincare solutions to multi-purpose makeup, our guide ensures you'll look and feel your best while exploring the world. Get ready to pack smart and maintain your signature style, all while embracing the spirit of wanderlust.
Travel Perfume
Elevate your travel experience with the Marc Jacobs Fragrances Perfect Eau de Parfum Travel Spray. In its compact 0.33 oz / 10 mL size, this exquisite fragrance becomes your travel companion, adding a touch of elegance and allure to every adventure. Embrace the essence of perfection and leave a fragrant trail of memories wherever you go.
Should you already possess a cherished fragrance, a perfume atomizer becomes invaluable for transferring your beloved scent into a more compact container. With this collection of four refillable bottles, you're granted the convenience of carrying various fragrances with you.
Liquid Face Wash
I opt for liquid face wash over solid options, even during non-travel periods. The SOOAE liquid face wash, available in a travel-friendly mini size, aligns with cruelty-free and vegan principles.
Solid Body Wash
Discover the transformative power of the Kitsch Detoxifying Charcoal Body Wash Bar. This solid body wash offers a unique cleansing experience, harnessing the benefits of charcoal for a revitalizing cleanse that leaves you feeling refreshed and rejuvenated. Say goodbye to traditional liquid options and embrace the innovation of solid body care.
Travel Containers
Elevate your travel organization with Gemice Silicone Cream Jars – the perfect leak-proof solution for your toiletries, vitamins, and pills. These versatile travel containers ensure a mess-free and organized journey, making packing and carrying essentials a breeze.
Cosmetic Palettes
URBAN DECAY Naked Mini Eyeshadow Palette, a compact treasure featuring 6 shades. Ideal for travel, these ultra-blendable, rich colors offer a velvety texture that ensures up to 12 hours of wear. Elevate your eye makeup game with this mini palette that brings versatility and long-lasting beauty to your journeys.
Gillette Venus Extra Smooth On The Go
The Gillette Mini On-the-Go Razor is remarkably compact yet maintains the same high-quality performance. Its grip and blades are suitable for everyday use, and it includes a convenient travel case to prevent any accidental cuts while you're on the move.
CLOTHING
As you embark on your journey, your clothing becomes your companion, reflecting your style and adapting to your destinations. In the realm of travel, clothing plays a pivotal role, offering both comfort and self-expression. This section delves into the art of selecting the perfect travel wardrobe, ensuring that your clothing choices align with your adventures while keeping you stylish and prepared for whatever comes your way. From versatile essentials to packing strategies, our guide aims to simplify your clothing decisions and enhance your travel experience.
Clothing Travel
Maximize your outfit options with fewer clothing pieces. Explore the Ugerlov Women's Two-Piece Outfits, where cozy knit pullover tops harmonize with high-waisted pants. Embrace an elegant ease as these sweater sets seamlessly fuse style and comfort. Whether lounging or on the move, these versatile sets redefine relaxation with a touch of sophistication. You can also checked Out best Dresses for Women and Best Polo Shirts for Men
Packable Puffer Jacket
Calvin Klein and CAMELSPORTS are highly regarded by numerous outdoor enthusiasts and travelers, and it's well-deserved. Their packable down jackets ingeniously fold into compact cubes, but don't underestimate them – they offer remarkable warmth, even in the chilliest of climates. Explore their collections for both women and men and discover the perfect companions for your outdoor adventures.
Note: As an Amazon Associate I earn from qualifying purchases.
This article could include affiliate links, implying that I might earn a minor commission from product sales made through these links. Rest assured, all viewpoints are sincere and continue to reflect my personal stance.