Revive And Refresh: The 4 Best Dry Shampoos For Colored Hair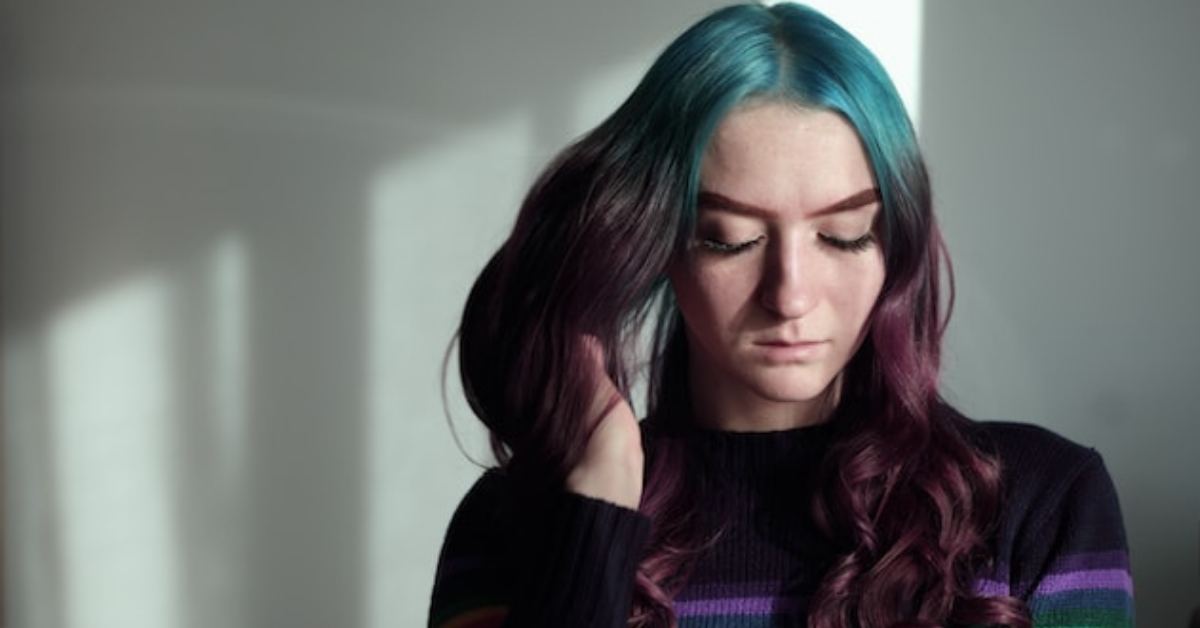 This article contains affiliate links. If you make a purchase through these links, we may earn a commission at no additional cost to you.
Need an easy way to revive your colored locks between washes?
Dry shampoos are the perfect solution! It can help extend those blowouts, add volume and texture to hair – plus there are now dry shampoos specifically designed for colored hair so it won't strip away any natural oils or potential pigment. Keep your scalp feeling clean and breathable with our top four picks of the best dry shampoos for colored hair.
Our selection has been carefully considered to ensure that you will only get the best quality products with gentle cleansing agents that allow you to maintain vibrant color without overloading your mane with chemicals. No more limp, lifeless locks - just revitalized tresses full of body and bounce.
Refresh, revive and nourish your hair by choosing one of our best dry shampoos for color-treated locks today!
Choosing the Best Dry Shampoos for Colored Hair: A Comprehensive Guide
In this guide, we'll walk you through the essential factors to consider when selecting the best dry shampoos for colored hair. Preserving the vibrancy of your hair color while keeping it refreshed and oil-free is crucial, and with the right dry shampoo, you can achieve just that.
Whether you have blonde, brunette, or any other dyed hair, we'll help you navigate the options and make an informed decision.
From understanding key ingredients to considering hair type and user reviews, we'll provide you with the knowledge to find the perfect dry shampoo to suit your colored tresses. Say goodbye to faded colors and hello to a long-lasting, fresh look with our expert tips and recommendations.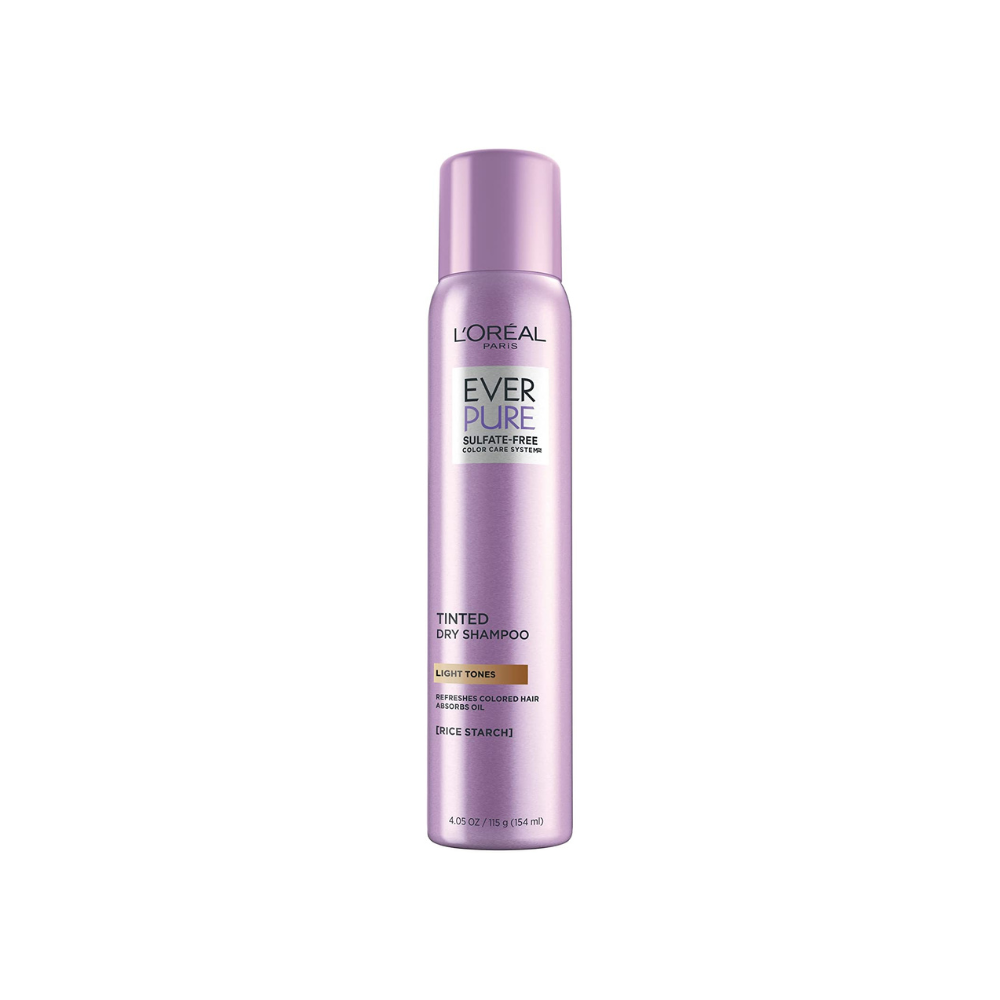 L'Oreal Paris EverPure Sulfate Free Tinted Dry Shampoo
for Blonde Hair, Absorbs Oil, Refreshes Colored Hair #ad #commissionearned
Check Price On Amazon
What We Love
Refreshing your color treated blonde locks has never been easier. This clever hair hero absorbs oil and maintains the brightness of light to medium colored blonde hair, leaving no white residue and no weigh down as it instantly refreshes.
And with an absolutely fabulous long-lasting fresh, floral fragrance featuring notes of almond blossom and creamy musk – you'll be looking - and smelling - like a million bucks in no time!
This 100 percent sulfate-free, paraben-free, gluten-free and vegan formula is infused with rose extract, pure pigments, and rice starch to get you your brightest blonde on wash days. Simply shake vigorously to dispense pigments; spray 6-8 inches away from dry roots; let dry for 30 seconds; massage into roots; brush through; then go about your style as usual.
Get ever better results with our EverPure Purple Shampoo and Conditioner for neutralizing brassiness 2-3 times per week. Whether taking a break from washing or busy styling, make this product a part of your look - you won't regret it!
What You Should Know
Blonde hair can be a blessing and a curse. While blonde locks are enviable and eye-catching, they tend to require a bit more maintenance than other hair colors. That's where EverPure Tinted Dry Shampoo comes in.
This amazing product is specially formulated to refresh color-treated hair while absorbing sebum and maintaining the brightness of light to medium blonde shades. It also leaves behind no pesky white residue and won't weigh your hair down.
Plus, the luxurious fresh, floral scent featuring notes of almond blossom and creamy musk will make hair washing a treat. The sulfate-free, paraben-free, gluten-free, and vegan formula is enriched with rose extract and rice starch, making it gentle yet effective.
To get your brightest blonde on wash days, use the EverPure Purple Shampoo and Conditioner to neutralize brassiness 2-3 times per week.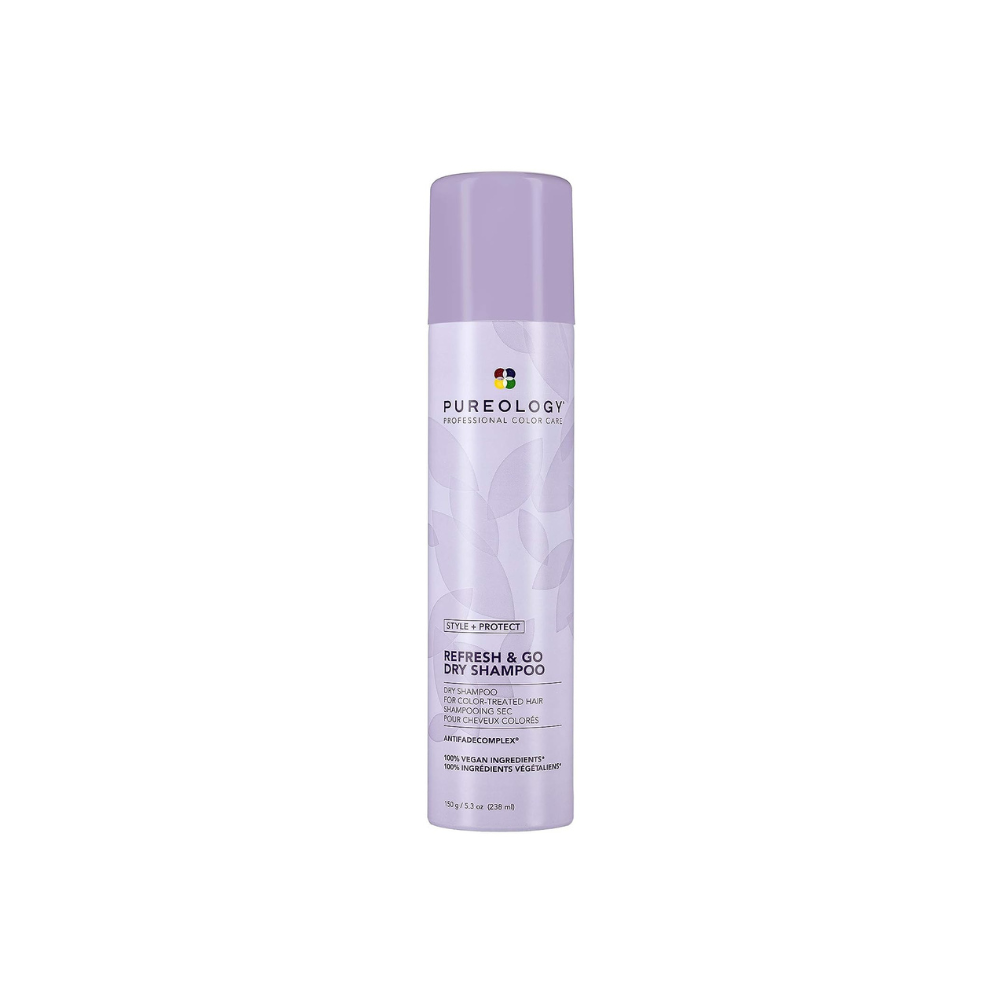 Pureology Style + Protect Refresh & Go Dry Shampoo
For Color-Treated Hair| Vegan #ad #commissionearned
Check Price On Amazon
What We Love
This all-in-one product will help take care of all your hair needs. It absorbs oil and protects your color-treated hair from fading, heat damage, and environmental stressors like you've never experienced before.
Not only is this product is super effective, but it's also incredibly convenient - just spray and go! You'll have freshly styled hair all day long without any of the hassle typical of other products.
Upgrade to the last dry shampoo you need for a great look in an instant!

What You Should Know
Maintaining color-treated hair can be a challenge, especially when it comes to preserving that vibrant color and preventing damage from daily stressors. Luckily, dry shampoo offers a solution that's both convenient and effective.
By using a dry shampoo regularly, you can absorb sebum and sweat that can cause color fade and damage, while also protecting your hair from the heat and environmental stressors that we encounter each day.
Not only does this help you keep your hair looking its best for longer, but it also makes it simpler to extend the time between washes and style your hair with less fuss.
With dry shampoo, you can enjoy the benefits of tangle-free, vibrant, and healthy hair, all while saving time and effort in your daily routine.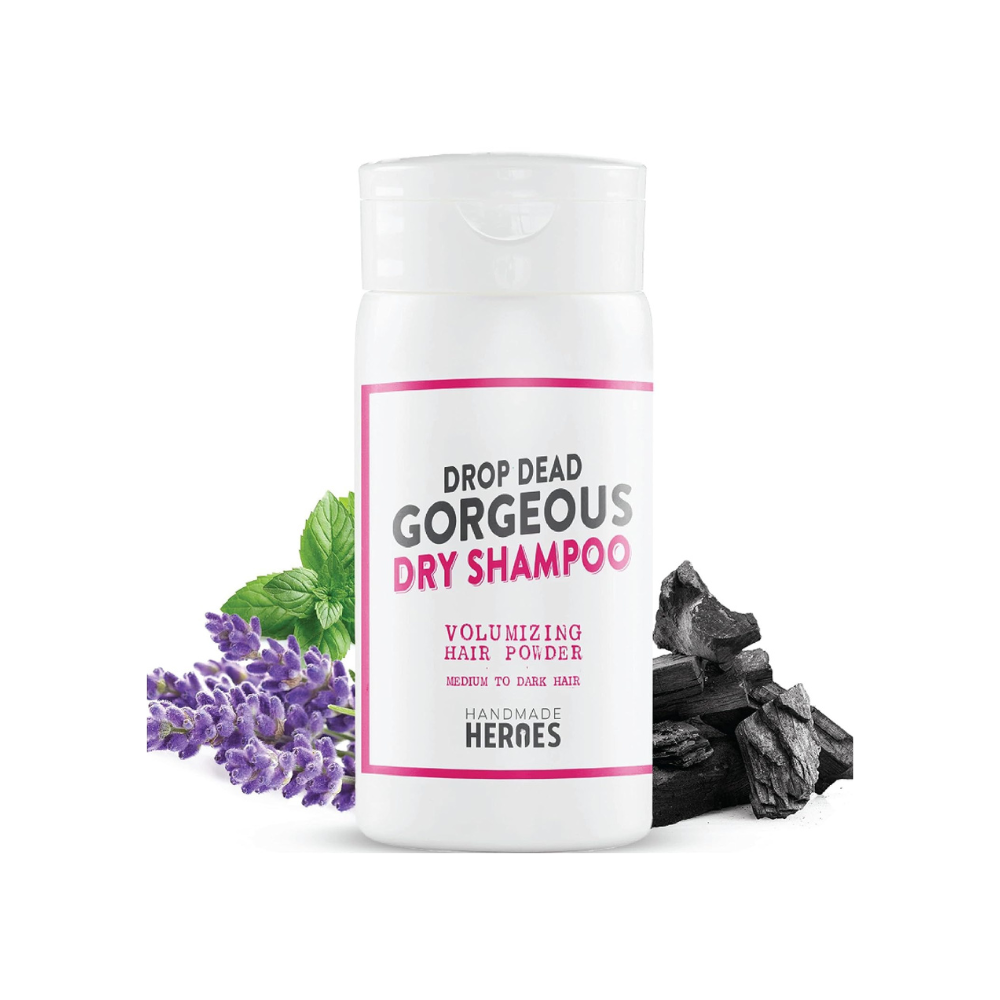 Drop Dead Gorgeous Non Aerosol Dry Shampoo
Volume Powder by Handmade Heroes #ad #commissionearned
Check Price On Amazon
What We Love
Boost your hair effortlessly with our Non Aerosol Dry Shampoo! This all-natural, plant-based, and vegan formula contains no harmful chemicals, ensuring a non-toxic experience. Spray at the roots, and watch the oil vanish, leaving you with voluminous, clean hair. Our Plastic Neutral packaging is eco-friendly. Get ready to impress, whether it's a night out or a midday refresher. Sprinkle your hair with love and wow everyone around you!
What You Should Know
Say goodbye to bad hair days with this clean and sustainable dry shampoo powder. Made with 100% natural, plant-based, and vegan ingredients, this powder is the perfect solution for those looking for a non-toxic alternative.
Not only is it effective in degreasing and volumizing hair, but it can also be used as a texturizing powder to style shorter hair. The new and improved packaging makes it the ultimate hair powder for on-the-go use, whether it's after workouts, traveling, hiking, or outdoor activities.
Most importantly, this dry shampoo powder is entirely plastic-neutral, ensuring that no leaching chemicals make their way into our oceans.
Simple to use and free from harmful chemicals, this versatile hair powder is best used with a handmade heroes blending scalp brush for optimal results.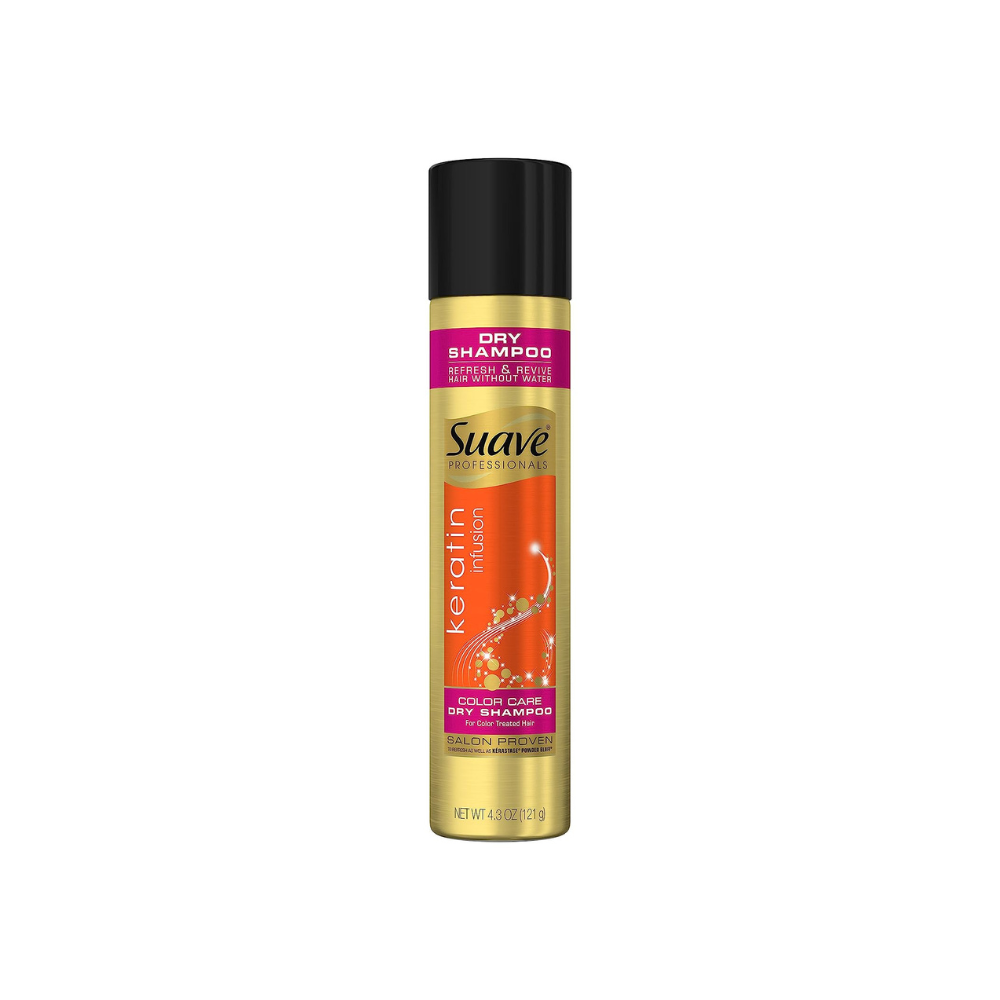 Suave Professionals Color Care Dry Shampoo
Keratin Infusion #ad #commissionearned
Check Price On Amazon
What We Love
Introducing Suave Professionals Color Care Dry Shampoo – a game changer for your hair! Save time and money by extending the life of your precious hair color with this simple yet effective solution.
This product, enriched with Keralock technology and infused with keratin, is salon proven to refresh Hair and absorbs excess oil from the scalp. It also keeps your hair clean, smooth, and manageable between washes.
Stop slaving over those costly trips to the salon and let Suave Professionals Color Care do it's magic! A few sprays and you'll feel as though you just left the salon—proof?
The results are comparable to Kerastase Powderbluff (Kerastase and Powder Bluff are registered trademarks of L'Oreal SA). So when it comes to protecting your colored locks—Suave Professionals Color Care is the only option worth considering.
What You Should Know
It's no secret that taking care of your hair can be a demanding task. That's why Suave Professionals Keratin Infusion Dry Shampoo is here to make it a little easier. With its Keralock technology and keratin infusion, this dry shampoo not only absorbs oil from the scalp, but also extends the lifespan of your colored look.
Plus, it's salon proven to refresh as well as the Kerastase Powderbluff, a top-of-the-line dry shampoo by L'Oreal SA. And the best part? You can keep your hair clean, smooth, and manageable between washes.
Say goodbye to constantly fussing over your hair and hello to effortless beauty with Suave Professionals Keratin Infusion Dry
Buying Guide for Best Dry Shampoos for Colored Hair
Finding a good dry shampoo for colored hair can be confusing and overwhelming. With so many different products on the market, it's hard to know what shampoo is best for your unique hair type and color.
You may be tempted to randomly select a dry shampoo from the store shelf, but without understanding what's inside those ingredients, you could end up drying out your colored hair or even worse - damage it!
Don't worry, because our team has done all the hard work for you. We have created the ultimate buyer's guide for finding the best dry shampoos specifically designed for coloring hair that will have you looking and feeling fabulous.
Is dry shampoo OK to use on colored hair?
Dry shampoo is safe for colored hair, but consider the following:
Read the label: Use a dry shampoo specifically labeled for colored or treated hair.
Avoid harsh ingredients: Choose sulfate-free and paraben-free products.
Patch test: Test new dry shampoo on a small hair section first to check for adverse reactions.
Don't overuse: Use dry shampoo as needed, but don't rely on it as a long-term replacement for washing.
Follow instructions: Adhere to the product's application guidelines for best results.
In summary, opt for color-safe dry shampoos, use them wisely, and seek professional advice if unsure.
Why is dry shampoo colored?
Dry shampoo is often colored to help it blend better with different hair shades. The colorant used in dry shampoo is typically a light powder or pigment that matches the color of the average person's hair.
By adding this color, the dry shampoo becomes less noticeable when applied to the hair, especially for individuals with darker or lighter hair color.
When dry shampoo is applied to the scalp and roots, it can sometimes leave a white or grayish residue. For people with dark hair, this residue can be quite noticeable and may require extra effort to blend in.
By tinting the dry shampoo to match different hair color, it reduces the contrast between the product and the hair, making it less obvious.
It's important to note that not all dry shampoos are colored. Some products are white or translucent and work well for those with lighter hair. However, for people with darker hair, a colored dry shampoo can be a better option for seamless application and blending.
How do you use dry shampoo with color?
To use colored dry shampoo, follow these steps:
Shake the can well to evenly distribute the colorant.
Section your hair for easier application.
Hold the can about 6 to 10 inches away from your scalp.
Spray the colored dry shampoo on the roots and oily areas.
Gently massage it into your scalp with your fingertips.
If you have darker hair, focus on the roots to avoid visible residue.
Blend the colored dry shampoo thoroughly into your hair.
Style your hair as desired after application.
Use dry shampoo as needed between washes, but avoid overuse.
Always read and follow the product's specific instructions.
If you experience any irritation or adverse effects, stop using it and seek professional advice.
What chemicals should I look for in dry shampoo?
When choosing a dry shampoo, it's essential to look for products with ingredients that are effective yet gentle on your hair and scalp. Here are some key chemicals to look for in dry shampoo:
Rice Starch or Corn Starch: These are common absorbent ingredients in dry shampoos that help to soak up sebum and grease from the hair, leaving it looking fresher and less greasy.
Kaolin Clay: Another natural absorbent, kaolin clay, is often used in dry shampoos to help absorb oil and impurities from the scalp and hair.
Aluminum Starch Octenylsuccinate: This ingredient is also used as an absorbent to reduce oiliness in the hair and create a fresher appearance.
Tapioca Starch: Similar to rice and corn starch, tapioca starch helps to absorb excess oils and improve the hair's texture.
Silica: Silica is used in dry shampoos to absorb oil and add volume to the hair.
Baking Soda (Sodium Bicarbonate): While baking soda can be effective at absorbing oil, it's important to use it in moderation, as it can be drying and potentially irritating to some scalps.
Essential Oils: Some dry shampoos contain essential oils, such as lavender or peppermint, to add a pleasant fragrance and provide potential benefits for the hair and scalp.
When looking for a dry shampoo, try to avoid products that contain:
Sulfates: Sulfates can be harsh and may strip the hair of its natural oils, leading to dryness and damage.
Parabens: Parabens are preservatives that some people prefer to avoid due to concerns about their potential effects on health.
Talc: Talc is another absorbent ingredient, but it has been a subject of controversy due to potential health risks when inhaled in large quantities.
Keep in mind that individual reactions to certain ingredients can vary, so always check the product label and consider doing a patch test if you have sensitivities or allergies.
If you have specific hair concerns or conditions, it's a good idea to consult with a dermatologist or hair care professional before selecting a dry shampoo.
What dry shampoo is color safe?
Among the mentioned dry shampoos, the following two are explicitly designed for color-treated hair and considered color-safe:
L'Oreal Paris EverPure Sulfate Free Tinted Dry Shampoo: This dry shampoo is sulfate-free and formulated for color-treated hair. It is tinted, making it suitable for various hair colors as it blends better without leaving a white residue.
Pureology Style + Protect Refresh & Go Dry Shampoo: Pureology is known for its products designed specifically for color-treated hair. This dry shampoo is no exception, providing color-safe cleansing and refreshing benefits.
While the other mentioned dry shampoos may also be effective, they might not have specific color-safe features highlighted in their descriptions.
To ensure the best results and preservation of your hair color, opt for products that clearly state they are suitable for color-treated hair, like the L'Oreal Paris and Pureology dry shampoos listed above.
Always read the product labels and descriptions to confirm their color-safe status before use.
What helps dry color treated hair?
Tips for caring for dry, color-treated hair:
Use sulfate-free shampoos to preserve natural oils and color.
Limit hair washing to every 2-3 days to avoid drying out the hair.
Regularly condition with hydrating products, including leave-in conditioners.
Apply deep conditioning treatments with ingredients like shea butter or argan oil weekly.
Wash hair with lukewarm water to prevent further dryness and color fading.
Minimize heat styling and use heat protectant sprays when styling.
Wear hats or use UV protection products to shield hair from the sun's harmful rays.
Avoid harsh chemical treatments like relaxers or perms to prevent damage.
Get regular trims to maintain healthy hair.
Use a wide-tooth comb for gentle detangling, especially when hair is wet.
Opt for protective hairstyles like braids or buns to reduce daily manipulation.
Stay hydrated and maintain a nutritious diet for overall hair health.
Seek professional advice if hair remains excessively dry or damaged.
Does dry shampoo clean hair?
Dry shampoo is not a substitute for regular shampoo and water-based cleansing. It absorbs oil and refreshes the hair by using absorbent ingredients like starches or clays, but it doesn't clean the hair or scalp thoroughly.
While it can be convenient for extending time between washes, it's important to use it moderately and not as a complete replacement for regular washing with water-based shampoos to maintain a healthy scalp and clean hair.
How do you know if your shampoo is safe for color treated hair?
To find a safe shampoo for color-treated hair, follow these steps:
Check the label for "color-safe" or "safe for color-treated hair" indications.
Opt for sulfate-free formulas to avoid color fading.
Avoid shampoos with ammonia or peroxide that may damage colored hair.
Look for UV protection to shield hair from sun-induced color fading.
Seek moisturizing ingredients like oils or shea butter for added hydration.
Consider shampoos with color-locking technology for prolonged vibrancy.
Read reviews to see others' experiences with color preservation.
Consult your stylist for personalized recommendations based on your hair type and color.
Perform a patch test when trying a new shampoo to avoid adverse reactions.
Following these tips will help you maintain vibrant, healthy color-treated hair with the right shampoo.
Is dry shampoo for all hair types?
Dry shampoo is generally suitable for all hair types, but its effectiveness can vary based on individual characteristics. It's popular for oily hair and extending time between washes.
Those with fine, thin hair benefit from added volume and manageability. However, individuals with curly, thick, dark hair or dry hair should use dry shampoo moderately to avoid buildup.
Choose a dry shampoo that suits your specific hair type and concerns, like those for color-treated hair or sensitive scalps. Consult a hairstylist or dermatologist for personalized recommendations.
What shampoo is bad for color treated hair?
Shampoos that contain certain harsh ingredients can be bad for color-treated hair as they may cause premature color fading, dryness, and damage. Here are some ingredients commonly found in shampoos that color-treated hair should avoid:
Sulfates: Sodium lauryl sulfate (SLS) and sodium laureth sulfate (SLES) strip natural oils and color. Choose sulfate-free shampoos.
Parabens: Some avoid parabens due to potential health concerns, though they don't directly harm hair color.
Ammonia: Common in hair dyes and best avoided in shampoos for colored hair.
Peroxide: Like ammonia, peroxide is found in hair dyes and should be avoided in color-treated shampoos.
Alcohol: High alcohol levels in shampoos can dry hair and lead to color fade and damage.
Fragrances and dyes: Artificial fragrances and dyes may irritate the scalp and skin, affecting hair.
Salts: Excessive salt in shampoos can strip color and moisture from hair.
Sodium Chloride (Salt): Also known as table salt, it can be harsh on color-treated hair.
Choose shampoos labeled "safe for color-treated hair" to preserve vibrancy. Read labels to avoid damaging ingredients. For personalized advice, consult a hairstylist or dermatologist. Keep your color-treated hair healthy and vibrant with the right shampoo.
Best Dry Shampoos for Colored Hair
After carefully researching the best dry shampoos for colored hair based on objective factors such as customer ratings, ingredients, and benefits, we believe that any of these 5 products would be a great option.
Whether you're looking for something budget-friendly, vegan-friendly, or simply something to make your colored hair look shiny and voluminous again, each of these options can provide you with fantastic results.
As with anything in life though, everybody's experience is going to be different and unique so experimentation is key in finding out which dry shampoo suits your needs best.
Best of luck on your journey to more luscious locks!
Note: As an Amazon Associate I earn from qualifying purchases.
This article could include affiliate links, implying that I might earn a minor commission from product sales made through these links. Rest assured, all viewpoints are sincere and continue to reflect my personal stance.