5 Highly-Rated Balance Bicycles for Kids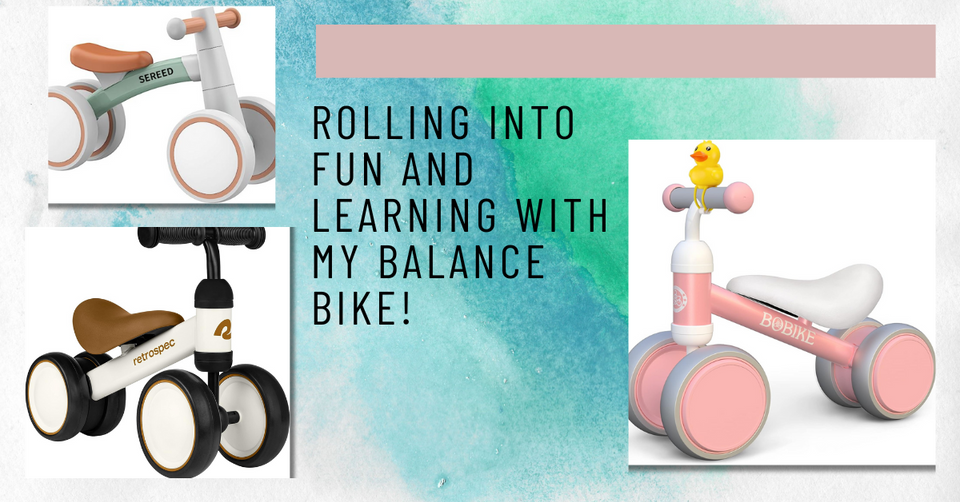 Are you looking for a safe way to help your little one love cycling and good for your budget?
Balance bikes are the perfect way to introduce kids as young as 18 months old to two-wheel riding. Incorporating fun colors, lighter frames and no pedals - they get children balancing on two wheels faster than traditional bicycles! We've researched 5 of the highest quality models that have been tested and rated for safety so you can enjoy peace of mind when your little one takes off!
With balance bikes, kids develop confidence at an early age while having plenty of fun along the way. And with coordinating helmet designs available, your child will look just like a pro cyclist in no time at all!
Check out our list of top picks today and find the model that is right for your ride!
Our Criteria for Picking the Finest Kids' Balance Bicycles
Choosing the right balance bike for your child can be overwhelming. With so many options and conflicting reviews, it's hard to know where to start.
You don't want to waste your money on a balance bike that your child won't enjoy or that won't teach them the necessary skills. And the last thing you want is a real bike that's too heavy or difficult for your child to handle.
That's why our team has done the research for you and compiled a list of the top kids' balance bicycles. We've read through thousands of user reviews and star ratings to provide you with the best options available.
With our guide, you can confidently choose the perfect balance bike that will help your child learn and have fun at the same time.
What We Love
Let your little one explore and roam around in complete safety and comfort with the SEREED Baby Balance Bike! Recommended for ages 12-24 months, this infant balance bike is the perfect birthday gift to help your little one develop essential skills like balance, coordination, and confidence from an early age.

Designed with your baby's utmost safety in mind, this mini balance bike features no pedals and a fully widened closed wheel to avoid clamping their feet as well as a 135° turning limit and gravity steering that keeps them safe on the ground.
Plus, its comfortable design features sturdy aluminum alloy frames, non-slip TPU handles, and a softly supportive seat so your baby can ride indoors or outdoors with ease.

At only bike weight of 1.6kg (3.6 pounds), both you and your kids can pick up the SEREED Baby Balance Bike with no problem. This lightweight design makes it easy for children to move around—which may just increase their interest in playing even more!
So don't worry about boredom setting in—this might be the perfect addition to any growing family!
What You Should Know
The infant balance bike is the perfect birthday gift for toddlers between the ages of 12-24 months not for older kids. It's an excellent tool for teaching babies how to walk and ride, while also developing their balance, coordination, and confidence.
Safety is always a top priority, and the bike's no-pedal design and fully widened closed wheel ensure that your little one's feet won't get caught. The bike allows for a 135° turning limit and gravity steering, which prevents the baby from turning over and getting hurt.
The bike is made from high-quality materials and features a sturdy aluminum alloy framework, non-slip TPU handle, and a supportive seat. The non-slip and wear-resistant wheels also allow for indoor and outdoor riding. Weighing only 1.6kg (3.6 pounds), this bike is easily transportable and a great option as a gift for one-year-old boys and girls.
So, let your toddler grow in fun with this exciting and safe infant balance bike.
Retrospec Cricket Baby Walker Balance Bike
with 4 Wheels for Ages 12-24 Months #ad #commissionearned
Check Price on Amazon
What We Love
The Retrospec Cricket Baby Walker Balance Bike is an ideal beginner bike for toddlers aged 12-24 months. It's safe, durable, and comfortable, designed to develop motor skills and instill a love for cycling from an early age.
The bike's sturdy build ensures safety, while non-slip wheels protect your floors. Soft handlebars, a cushy seat, and a steering limit ensure comfort and control. It comes 95% assembled and can accommodate a maximum rider weight of 44lbs (20kgs). Start your child's cycling journey with the Retrospec Cricket for a lifetime of adventure and fun.
What You Should Know
Looking for the perfect gift for your toddler's first birthday? Look no further than the Retrospec Cricket beginner baby bike! Specifically designed for ages 12-24 months, this bike is the ideal tool to help develop your child's motor skills needed for walking and ultimately riding a bike.
The sturdy and durable design ensures your child always feels safe and comfortable while mastering their balance and movement. With its non-slip, scratch-resistant wheels, you won't have to worry about any damage to your floors, and the soft handlebars and cushy seat provide the perfect amount of support to keep your little one in control.
Plus, assembly is a breeze - Cricket comes 95% assembled straight from the box. Get ready to watch your child take their first step towards riding with the Retrospec Cricket!
for 1 Year Old Gifts Boys Girls 10-24 Months Kids Toys Toddler #ad #commissionearned
Check Price on Amazon
What We Love
Embark on a journey of adventure with the Baby Balance Bike Toys, specially designed with your little one's safety and comfort as top priorities. This balance bike boasts ASTM F963-11 and EN71 certifications, underscoring its commitment to safety standards. It features a 135° steering limit design, ensuring that your child can explore and learn while staying securely in control.
What makes this balance bike even more appealing is its easy setup. You won't need complex or sophisticated tools to put it together. In just a matter of minutes, your child can be ready to enjoy this fantastic riding experience. Whether it's indoors or outdoors, the Baby Balance Bike Toys provide a platform for your youngster to master the basics of balance, walking, and eventually riding a bike. It's an excellent way for them to build confidence and coordination while having loads of fun.
Why not join them on this exciting journey as they embrace newfound freedom with the incredible Baby Balance Bike Toys? It's an adventure that both you and your child will cherish.
What You Should Know
Watching a child take their first steps is one of the most exciting moments for any parent. But why stop there?
A toy bike can be the perfect gift for a 1-year-old girl to embark on a new adventure. BOBIKE Balance bike is designed to help children learn balance, walking, and starting to ride. With safety assurance from ASTM F963-11, EN71 certification and the 135° steering limit design, parents can avoid side falls or foot damage. The bike's strong steel frame material, comfortable seats, and closed non-slip wheels provide peace of mind for parents guiding their babies on a bike.
Setting up the bike is just as easy as 1, 2, 3, taking only a few minutes to assemble without any complex or sophisticated tools. With BOBIKE balance bike, your child can play both indoor and outdoor under guidance, bringing fun activities to both small people and adults.
KRIDDO Toddler Balance Bike
Age 24 Months to 5 Years Old, 12 Inch Push Bicycle with Customize Plate #ad #commissionearned
Check Price on Amazon
What We Love
KRIDDO's Toddler Balance Bike is the perfect way to get your little one started on their biking journey. With its well-balanced design, stable frame and extra-thick all-terrain tires, it is the perfect companion for your 18 month to 5 year old. The seat height adjustments from minimum seat height to max and handlebars allow it to grow with your child and the custom plate lets them design it and make it their own.

Safety is at the forefront of the design of this bike, with a rubber grip handlebar and a soft PU seat to provide extra comfort and security as they zoom around. The sturdy carbon-steel frame also ensures that it will hold up to 110 lbs, giving your child the confidence they need to get riding.

At KRIDDO we want your little ones to have a fun and safe learning experience on their kids bikes. Our Toddler Balance Bike gives them a chance to create their own identity through the customizable plate and the 3 sets of alphabet and number stickers included.

So come on parents, what are you waiting for? Give your little one the adventure they crave and get the KRIDDO Toddler Balance Bike today.
What You Should Know
These kids bikes to the joys of cycling at a young age has never been easier with the Early Learning Balance Bike. Specifically designed for toddlers between 18 months and 5 years of age, this bike is a fantastic option for parents looking to give their child a fun and engaging way to explore the great outdoors.
With sturdy frame construction and a well-balanced, kid-friendly design, this balance bike allows kids to push, stand, and walk their way around with ease. And with extra-thick, all-terrain tires and enhanced safety features like soft rubber grip handlebars and a tough carbon-steel frame, parents can rest easy knowing their child will be safe while having a blast.
Plus, with a customizable plate included, kids can even put their personal touch on their new favorite toy!
What We Love
Introducing the BEKILOLE Balance Bike – a delightful and reliable choice for your young budding rider! Our lightweight yet robust balance bike has been meticulously crafted with your child's safety and comfort as the topmost priority. It proudly boasts an ASTM F963 Safety Certification, ensuring your child's complete safety during their riding adventures.
What sets our best balance bikes apart is its thoughtful design, aimed at providing superior stability and control. The low center-of-gravity design and the inclusion of a 135° steering limiter ensure that your little one can confidently navigate their path while avoiding sharp turns that might cause imbalance. These features give both children and parents peace of mind during their riding experiences.
In addition to safety, we've paid close attention to the comfort of your child. The bike's body is constructed from high-end carbon steel, ensuring durability and reliability. The soft nonslip EVA handlebar and cushioned seat are designed to offer maximum comfort to your child as they ride, making their adventures enjoyable and fatigue-free.
What's more, our BEKILOLE Balance Bike is versatile and can be used indoors or outdoors, thanks to its silent wheels. This means your child can enjoy the thrill of riding in various environments, encouraging them to explore and stay active.
Furthermore, we understand the value of your time and convenience. Our balance bike comes 95% assembled, saving you the hassle of complex assembly processes. You'll have it up and running for your child in no time, ready for them to embark on their riding journey.
To top it all off, we offer a generous 1-year manufacturer warranty, reflecting our commitment to quality and your child's enjoyment. Why wait? Give your child the gift of the BEKILOLE Balance Bike today, and watch them develop their motor skills, confidence, and love for riding. It's an investment in their growth and happiness that you won't regret.
What You Should Know
We all want our children to be safe, especially when it comes to their playtime. That's why the 4 Wheels Quality Bike with low center-of-gravity design is the perfect choice for young toddlers. Not only is it fully certified by the United States Children's Product Safety with ASTM F963 Safety Certification, but it also features a 135° steering limiter design to avoid sharp turns, and fully enclosed wheels to avoid side falling or foot damage, plastic tires but durable.
Plus, the bike is made of high-end sturdy carbon steel and comes with a soft non-slip EVA handlebar and cushioned seat to provide a stable and comfortable position for your little one.
The best part? It's easy to assemble and comes with gift packaging, making it a hassle-free option. Why not give your toddler the gift of a safe and fun ride with the 4 Wheels Bike?
Your Guide to Finding the Top Kids' Balance Bicycles
Selecting the perfect balance bicycle for your kids can be overwhelming and time-consuming. With so many options out there, how do you know which one is the best?
You don't want to waste your hard-earned money on a balance bicycle that doesn't live up to your expectations. And you certainly don't want your kids to be disappointed with their new ride.
That's why our team has done the research for you. We have created a comprehensive buyers guide that will walk you through everything you need to know to make the right choice. From size and design to safety features and durability, we cover it all. So you can confidently select the highly recommended balance bicycle that will bring joy and excitement to your kids' playtime.
What is the point of a balance bike for kids?
The primary purpose of a balance bicycle for kids is to help them develop essential motor skills and prepare them for riding a traditional bicycle. These kids bike is not a pedal bike or training wheels like with the other bikes or bmx bike, allowing children to focus on balance and coordination.
By using their feet to push themselves forward and to stop, kids learn how to maintain balance and control, which are fundamental skills for riding a regular bike. Additionally, best balance bikes build confidence and a sense of independence in children as they master the art of balancing on two wheels, making the transition to a pedal bike much smoother when they are ready.
Do balance bicycles help kids learn to ride?
Yes, balance bicycles are highly effective tools for helping kids learn to ride. These bikes are designed to teach children the critical skills required for cycling, primarily balance and coordination.
By starting with a balance bicycle for kids can gradually develop their ability to balance on two wheels without the added complexity of pedals. They use their feet to push off the ground and control their speed, which provides a sense of control and builds confidence.
This method allows children to become comfortable with the feeling of being on a bike and, over time, makes the transition to a pedal bike much easier. Balance bicycles are a great starting point for children to learn the fundamentals of cycling, and they can significantly accelerate the process of becoming proficient bike riders.
When can a kid start using a balance bicycle?
Children can start using a balance bicycle as early as 18 months, and they are typically suitable for kids up to around 5 years old. The age at which a child is ready for a balance bike may vary depending on their individual development and motor skills.
Many balance bicycles come with adjustable seats and handlebars, allowing them to grow with the child, so even a younger toddler can comfortably ride one. It's crucial to choose a balance bike that's the right size for your child, with their feet flat on the ground when sitting on the saddle.
As soon as a child can confidently walk, they can usually start enjoying the benefits of a balance bicycle, making it an excellent choice for early cycling experiences.
How long can kids use a balance bike?
How long can kids use a balance bike?
Kids can use a balance bicycles for several years, typically up to around 5 years old, but this can vary depending on the child's growth and skill development.
Most balance bicycles are designed with adjustable seats and handlebars to accommodate a child's growth, ensuring they can use the bike for an extended period. As children become more proficient at balancing and gain confidence, they may naturally progress to a pedal bike.
The transition from a balance bicycle to a traditional bicycle is often smoother, as they've already mastered the crucial skill of balance. Ultimately, the length of time a child can use a balance bike depends on their individual progress and when they feel ready to make the switch to a pedal bike.
How do you measure a kids balance bike?
To measure a kid's balance bicycle, you typically need to consider two primary factors: the seat height and the wheel size. These measurements are crucial in ensuring the bike is appropriately sized for the child.
1. **Seat Height:** The seat height is the most important measurement to consider. It determines whether the child can touch the ground comfortably while sitting on the bike. To measure the minimum seat height, have the child stand flat-footed on the ground, and then measure from the ground to the crotch or inseam area. This measurement should guide you in choosing a balance bike with a seat height that allows the child to have both feet flat on the ground when seated.
2. **Wheel Size:** The wheel size of a balance bike also plays a significant role in the child's comfort and control. Balance bike sizes refer to the wheel size, not the frame sizes, usually ranging from 10 inches to 16 inches. Larger wheels generally provide more stability, while smaller wheels are easier to handle for younger children. The wheel size should be appropriate for the child's height and age.
It's important to note that many balance bikes have adjustable seat heights and handlebars, allowing them to grow with the child. When measuring, consider a bike with these adjustable features to ensure a longer useful life for the bike. Ultimately, choosing the right size balance bike is crucial to provide a safe and enjoyable riding experience for your child.
What the difference between balance bicycles or convertible balance bikes?
Balance bicycles and convertible balance bicycles/bikes share a common goal of helping children develop balance and coordination skills before transitioning to pedal bikes. However, there is no standard distinction between "balance bicycles" and "convertible balance bicycles/bikes." It's possible that the terms are used interchangeably in different contexts.
However, based on a common understanding of these terms, here is a general difference:
Balance Bicycles:

Balance bicycles typically refer to traditional pedal-less bikes designed solely for helping children learn balance and coordination. They do not come with the option to attach pedals, and their primary purpose is to focus on the fundamental skills of balancing on two wheels.

Convertible Balance Bicycles/Bikes:

Convertible balance bikes are designed with the option to attach pedals. This means that they can function as both a traditional balance bike (pedal-less) and a pedal bike. Parents can choose when to introduce the pedals based on their child's readiness to pedal. This design provides a smoother transition to pedaling when the child is ready.
In summary, while "balance bicycles" typically refer to standard pedal-less bikes, "convertible balance bicycles/bikes" are designed to offer dual functionality, allowing for a smoother transition to pedaling when the child is ready. However, it's essential to note that the specific terminology and features can vary between manufacturers and brands, so it's advisable to check the product description to understand the exact design and capabilities of a particular bike.
What are the benefits of a balance bike?
Best balance bikes provide numerous benefits for young children. They help develop essential motor skills like balance and coordination, making the transition to regular bikes easier. Their low-to-the-ground design ensures safety, allowing kids to stop and touch the ground quickly.
Balance bicycles encourage independence, physical activity, and outdoor play, promoting a healthier lifestyle. They are also simple to maintain and cost-effective for parents, offering a convenient and enjoyable way for children to learn and have fun on two wheels.
What is the disadvantage of balance bike?
Most balance bikes have a few potential disadvantages to consider. They don't teach pedaling, which means children transitioning directly to regular bikes may face an initial challenge. However, most children adapt quickly.
Balance bikes are also generally more expensive than tricycles with training wheels, although this cost is often offset by the quicker learning curve and avoidance of training wheel frustrations.
Some balance bikes may not be suitable for rough terrains, so choosing an appropriate model for the intended environment is essential. Despite these drawbacks, the long-term benefits of balance bikes typically outweigh these concerns.
How do you balance a bike for beginners?
Balancing on a bike can be a challenge for beginners, but with practice and the right techniques, it becomes easier. Here are some steps to help beginners find their balance on a bike:
1. **Choose the Right Size:** Ensure the bike is the right size for the rider. Feet should be flat on the ground while seated, with a slight bend in the knees.
2. **Helmet and Safety Gear:** Safety is paramount. Always wear a properly fitted helmet and any other protective gear, like knee and elbow pads.
3. **Start on Flat Ground:** Begin in a level, open area with no obstacles. It's best to learn on a smooth surface like a parking lot or a quiet street.
4. **Lower the Saddle:** Lower the saddle so that the rider can easily touch the ground with their feet while seated. This provides a sense of security and control.
5. **Practice Gliding:** Start by walking the bike with both feet on the ground. Then, try gliding by lifting both feet and coasting for short distances. Focus on keeping the handlebars straight.
6. **Look Ahead:** Keep your eyes forward and look where you want to go, not at your feet or the front wheel.
7. **Balancing Act:** When coasting, practice the balance by leaning slightly to one side and then the other. Gently shift your weight while keeping the handlebars straight.
8. **Use Your Feet:** Place your feet on the ground as needed to regain balance or stop. Gradually reduce the amount of time your feet are on the ground.
9. **Practice, Practice, Practice:** Balance improves with practice. Spend time on the bike regularly, gradually increasing the distance you can glide without putting your feet down.
10. **Confidence Building:** As you become more comfortable, increase your speed and practice turning. Learning to balance while turning is a significant step toward riding confidently.
Remember that everyone progresses at their own pace, and it's normal to have some wobbles and falls during the learning process. Patience, practice, and consistent effort are key to mastering the art of balancing on a bike.
How do I teach my child to ride a bike?
Teaching your child to ride a bike requires patience and careful steps. Start by choosing the right-sized bike and ensuring they wear safety gear. You can use a balance bike or training wheels initially.
Gradually introduce pedaling and braking, and practice in a safe area. Offer support by running alongside and gradually letting go as your child gains confidence. Teach turning and steering and, when they're ready, remove the training wheels.
Be patient and encouraging, celebrating their success when they can ride independently. Adapt to your child's pace, making the learning experience positive and enjoyable.
Must-have Balance Bicycles for Kids
With our list of the best balance bikes for kids, you now have all the information necessary to make an informed decision and get the perfect bike for your child.
Our feet-on-the-ground kids guide is planned to help you get the right balance bike and empower them with improved physical capabilities, confidence, and skills that will last a lifetime. What better gift than something that children enjoy as an activity while they learn fundamental balance skills?
Make sure to consider age, size, safety features, designed quality, and performance of each bicycle before selecting a model and ordering it online. Shopping for a bike for your child doesn't have to be laborious or inconvenient these days – with this post from us, you will feel confident about getting the best possible result in no time!
Visit our website today and start shopping for the kids' favorite balance bikes for your little one!
This article could include affiliate links, implying that I might earn a minor commission from product sales made through these links. Rest assured, all viewpoints are sincere and continue to reflect my personal stance.