5 Must-Have Storage Solutions for Every Room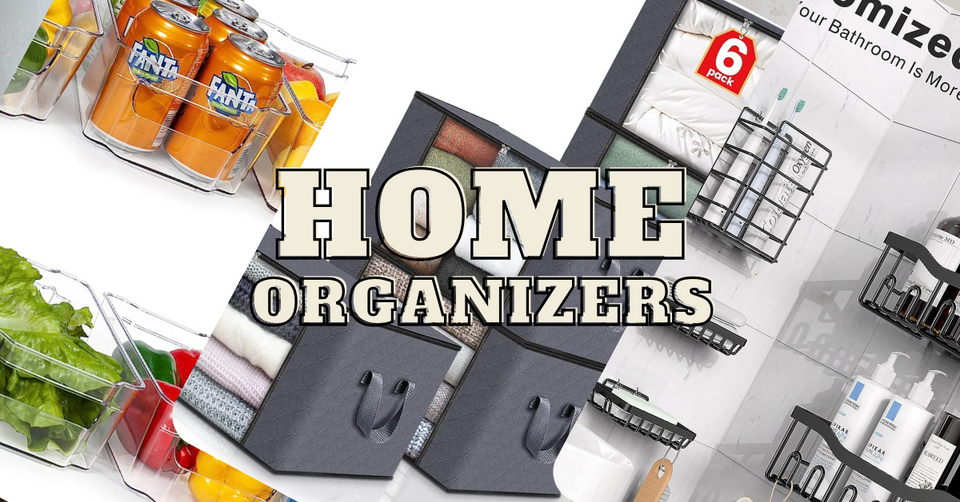 This article contains affiliate links. If you make a purchase through these links, we may earn a commission at no additional cost to you.
Need help decluttering and organizing your home?
Don't let a disorganized home bring you down. With some small improvements, you can finally say goodbye to the days of struggling to find common items, dealing with overflowing closets or feeling embarrassed when family visits!
We've got five must-have organizer di that'll make every room in your house look organized — no matter how limited the organizing space might be. These solutions are practical yet stylish so they won't take away from the interiors of your home. Plus, they're perfect for even those rooms where multiple items need to be stored!
Click through this blog post now and get started on tidying up sooner than you thought possible. Your dream clutter-free life awaits ... don't wait another minute to start organizing!
Picking the Best Storage Solutions for Every Room: Our Approach
Trying to find the best storage solutions in your home can be overwhelming and time-consuming.
With so many options available, it's difficult to know which ones are actually worth the investment. You don't want to waste your money on storage ideas and solutions that won't fit your needs or clutter up your space even more.
That's where our team comes in. We've done the research for you and compiled a list of the top storage options. Our comprehensive reviews and star ratings will help you make an informed decision and save valuable space in your home.
HOOJO Refrigerator Organizer Bins
8pcs Clear Plastic Bins For Fridge, Freezer, Kitchen Cabinet, Pantry Organization #ad #commissionearned
Check Price on Amazon
What We Love
Create an organized, clutter-free fridge with the HOOJO Refrigerator Organizer Bins!
This 8-piece set includes a range of strong and durable bins that are made from premium, BPA-free polyethylene plastic, ensuring that your food is stored safely and securely.
Each bin measures 12.5" x 6.3" x 3.5", giving you the extra storage that your refrigerator needs. The sleek, clear design not only looks great, but it also has built-in handles and an open view of your food choice, making it easy to transport and access your desired food items! With our fridge organizer bins, you can arrange and categorize your food items for a tidier and more convenient shopping and eating experience.
Your fruits, vegetables, canned food, and other items can be easily transported directly from your fridge to the table or kitchen counter. Experience the convenience of a well-organized refrigerator today and make life easier with the HOOJO Refrigerator Organizer Bins!
What You Should Know
Have you ever opened your fridge and thought, "Where did I put that?" or "I need more space!"? The 8 Pieces Fridge Organizer Bins Set might just be the solution you have been looking for!
With each bin measuring at a spacious 12.5'' L x 6.3" W x 3.5" H, you can easily store a variety of products such as fruits, meat, milk, drink bottles, and more. Not only do these clear bins create an organized fridge or pantry with easy-to-find items, they also save you time by significantly cutting down on the search for what you need.
The easy-grip side handles make it a breeze to move items around and the high quality shatterproof BPA free polyethylene material ensures durability and safety. Say goodbye to cluttered fridges and hello to a cleaner and more efficient storage system!
EUDELE Shower Caddy 5 Pack Adhesive Shower Organizer
for Bathroom Storage & Kitchen #ad #commissionearned
Check Price on Amazon
What We Love
The EUDELE Shower Caddy 5 Pack is a complete bathroom organizer offering functionality, durability, and style. It includes 2 shower caddies, 2 soap holders, 1 toothbrush holder, and 5 adhesive strips, making it perfect for bathroom or kitchen organization.
This organizer maximizes storage space efficiency and is constructed from premium SUS 304 stainless steel, ensuring it's rustproof, waterproof, and scratch-resistant, with an impressive 8-year lifespan in humid conditions. The hollow design promotes ventilation and drainage for easy cleaning.
With reliable transparent adhesives supporting up to 40 lbs of weight, there's no need to worry about items falling. Installation is a breeze, as it adheres to smooth surfaces without drilling or tools, preserving your walls. Rounded edges ensure safety.
Choose the EUDELE Shower Caddy 5 Pack for a clutter-free and well-organized bathroom or kitchen.
What You Should Know
Get ready to say goodbye to cluttered countertops and disorganized cabinets with this incredible bathroom organizer. With five versatile pieces that offer exceptional space-saving capabilities, you can easily store and access all of your toiletries or kitchen seasonings with ease.
This organizer is built to last, made from premium SUS 304 stainless steel that is durable, rustproof, waterproof, and scratch-resistant. The hollow design ensures ample ventilation and drainage, with rounded edges that help prevent accidental scratches or cuts. The best part? With the transparent, traceless adhesives, installation is an absolute breeze.
Simply stick the organizer to any smooth surface, like tiles, marble, glass, or metal - no drilling or tools required. With a weight capacity of up to 40 lbs, you can be sure that your items will stay put and won't fall. It's time to reclaim your space and feel organized and efficient - try this bathroom organizer today!
Fab Totes 6 Pack Clothes Storage
Storage Containers for Organizing Bedroom #ad #commissionearned
Check Price on Amazon
What We Love
Elevate your wardrobe storage with Fab Totes 6 Pack Clothes Storage. These fabric containers shield your clothes from dust and moisture, preserving their condition. With premium materials, these totes offer a soft touch for a delightful sorting experience.
The reinforced handle doubles the load capacity, and clear windows make item identification easy. A reliable stainless steel zipper keeps contents secure. These versatile organizers work well in bedrooms, nurseries, dorms, and more.
Say farewell to clutter and welcome smarter wardrobe storage with Fab Totes 6 Pack Clothes Storage Organizers today!
What You Should Know
Keeping your clothing organized is a challenge that many people face, but with the 6 pack storage containers, your clothes will be easily organized and accessible. With a large capacity of 60L, these fab totes clothes storage bags are made of high-quality, odorless, breathable non-woven fabric, protecting your clothes from dust and moisture.
Each blanket storage bag measures 21.65''x 13.78''x 12.40'', providing ample space for all your belongings. These storage organizers are easy to carry with reinforced handles that have two additional layers of thick fabric to double the load-bearing capacity. Thanks to the see-through window on the front, you will quickly identify what is inside the totes for storage.
The stainless steel zipper is strong and not easily broken, ensuring a long service life for the bags. You can use these versatile storage bins for various purposes, from bedroom wardrobe to baby chamber toys, student dormitory, tool room storage, and towel storage, keeping your items clean and organized.
Cabinet Caddy SNAP! Sliding Spice Rack Organizer for Cabinet
for Cabinet, Medicine Cabinet or Vitamin Organizer #ad #commissionearned
Check Price on Amazon
What We Love
Make the most of your space with the Cabinet Caddy SNAP! Sliding Spice Rack Organizer. Perfect for smaller cabinets, the adjustable shelves snap in to accommodate items of any height, offering five different locations on each pull-and-rotate pod. Boasting a magnetic modular design, you can connect multiple units together for easy, convenient organization.
Plus, with easy setup and use, organizing your items has never been easier. With the included stick-on labels, small things tray with stabilizing foam, 3M non-skid feet, and optional 3M adhesive pad, you'll have everything you need to keep your cabinet neat and organized. Discover the convenience and ease of the Cabinet Caddy SNAP! Sliding Spice Rack Organizer today!
What You Should Know
Organizing your space just got easier with adjustable shelves that snap in to fit the height of your items. This caddy is designed to fit even smaller spaces, with a physical height of 8.9". You can adjust the shelves to the top location for items that need more space. With a clearance of 11" deep and 9" tall, this caddy will fit in most cabinets.
The magnetic modular design allows you to connect additional caddies and sit side-by-side, functioning as one. Setting up is a breeze, fill it up, adjust the shelves, and lift the handle to easily access your items. Get organized with the stick-on labels provided to help categorize, a "small things" tray with stabilizing foam to keep odd-sized items secure, and 3M non-skid feet to keep it in place. Try it out with the optional 3M adhesive pad, and take the first step towards an organized home or office.
Cabinet Caddy Pull-and-Rotate Spice Rack Organizer
2 Double-Decker Shelves | Modular Design | Non-Skid Base #ad #commissionearned
Check Price on Amazon
What We Love
Meet the Cabinet Caddy Pull-and-Rotate Spice Rack Organizer, your key to an organized kitchen or bathroom cabinet. This product ensures instant access and tidiness for your essentials.
Make sure your cabinet has an 11" deep and 11" tall clearance for a proper fit. The double-decker shelves are designed for different-sized items. There's no assembly required; just place it in your cabinet and start using it.
Stick-on labels for handles, foam stability inserts, and non-skid feet are included for added convenience. Upgrade your cabinet organization with the Cabinet Caddy today!
What You Should Know
Tired of searching for small spices and items lost in your cluttered kitchen or bathroom cabinets?
The instant-access cabinet organizer is the solution you've been searching for. With its modular design and double-decker shelves, this organizer maximizes cabinet space while keeping your items tidy and accessible.
It's easy to set up, with no assembly required - simply place it in your cabinet and you're ready to go. The top shelf holds shorter items, while the bottom shelf accommodates taller ones, giving you the flexibility to store a variety of items.
Plus, with stick-on labels for categorization, foam stability inserts to prevent tipping, and non-skid feet to keep everything in place, this organizer is a must-have for any well-organized household.
Guide to Essential Storage Purchases
Finding the right storage ideas and solutions for every room in your home can be overwhelming and time-consuming. It's difficult to determine which options are the most suitable and effective for your specific needs.
Without proper storage, your space can quickly become cluttered and disorganized, making it difficult to find what you need and creating unnecessary stress. It's frustrating to spend money on storage ideas and solutions that end up being inadequate or not fitting your space properly.
That's where our Must-Have Storage Buying Guide comes in. Our team of experts has done the research and compiled a comprehensive guide to help you select the perfect storage. With our guide, you'll have all the information you need to make confident decisions and maximizing storage space.
Say goodbye to clutter and hello to an organized and efficient home with the Best Storage for Every Room.
Which storage ideas and solutions work best for small spaces?
In small spaces, it's essential to make the most of every available inch. The best ideas and solutions for compact areas often include multifunctional furniture.
For instance, ottomans or benches with hidden storage can serve as both seating and a place to stash items. Wall-mounted shelves are excellent for keeping floors clear, and they utilize vertical space effectively. Under-bed storage bins are ideal for maximizing bedroom space, as they take advantage of an often-underutilized area.
Additionally, consider using hanging organizers on the back of doors or inside cabinets to make the most of every nook and cranny in your small space. These solutions help keep clutter at bay while maintaining a sense of openness in tight quarters.
How can I optimize kitchen organization?
Optimizing kitchen organization involves a systematic approach to make the most of your available space and ensure that everything is easily accessible.
Firstly, declutter and donate or discard items you rarely use. Utilize cabinet and drawer organizers to separate cookware, utensils, and kitchen tools. Consider adding pull-out shelves and lazy Susans to maximizing storage space of your kitchen.
Use clear containers for dry goods, and label them for easy identification. Install a pegboard on a kitchen wall to hang pots, pans, and utensils, freeing up cabinet space. Make use of under-cabinet hooks or shelves for mugs and cups. A hanging pot rack is also a great space-saving solution.
Finally, designate a pantry area for non-perishable items and invest in airtight containers to keep food fresh and organized. Regularly review and reorganize your kitchen to maintain its efficiency.
What combines functionality and style in home storage?
Home storage ideas and solutions that successfully combine functionality and style are those that not only serve a practical purpose but also enhance the overall aesthetic of a space.
For instance, furniture pieces like storage ottomans or benches offer hidden storage while doubling as comfortable seating, adding a touch of elegance to a space. Floating wall shelves are both functional and visually appealing, providing a place to display decorative items or books while keeping your space organized.
Built-in storage ideas and solutions, like custom cabinetry or shelf variety units, can be designed to seamlessly blend with the room's decor while maximizing space. Additionally, storage baskets or decorative boxes with stylish designs can be used to keep clutter out of sight while adding a pop of color or texture to a room.
The key is to select storage options that not only fulfill your organizational needs but also complement your interior design, creating a harmonious and well-balanced living environment.
How do I organize my room full of everything?
To organize a cluttered room effectively, begin by decluttering and categorizing your belongings. Donate or discard what you no longer need. Invest in suitable storage ideas and solutions such as shelves, under-bed storage, and decorative bins.
Opt for furniture with built-in storage or multifunctional pieces. Maintain your organization system regularly to prevent clutter from accumulating. This systematic approach will help you create a more organized and functional space, no matter how cluttered it was initially.
What is the best way to organize a storage room?
Organizing a storage room efficiently begins with a strategic plan. First, sort through all the items in the room and categorize them. Decide what you want to keep, what can be donated or discarded, and what should be relocated to a different storage area.
Once you've reduced the number of items, invest in storage ideas and solutions that suit your needs, such as shelf variety units, clear plastic bins, and storage racks. Label everything clearly to make items easy to locate.
Organize items by category and frequency of use, placing those you need more often at eye level and easily accessible. Consider using vertical storage ideas with wall-mounted shelves or pegboards.
Regularly assess and maintain your storage system to ensure it remains organized and clutter-free. With a well-thought-out plan and the right storage tools, you can create a highly functional and well-organized storage room.
What storage method is used to organize?
The choice of storage method for organization depends on the specific needs and items being organized. Common storage methods include shelving unit, clear plastic bins, cabinets, drawers, and hanging storage ideas and solutions.
Shelving units are versatile for displaying items and keeping them accessible. Clear plastic bins are excellent for categorizing and storing various items while still allowing easy visibility. Cabinets and drawers offer concealed storage, keeping items out of sight. Hanging storage ideas and solutions, like hooks or pegboards, can help utilize vertical storage and keep frequently used items within reach.
The key to effective organization is to select the storage method that best suits the items you're organizing and the area available, ensuring that it maximizes accessibility and minimizes clutter.
What should be in a storage room?
A storage room should primarily house items that are not in regular use but are still valuable or essential. Common items typically stored in a storage room include seasonal decorations, extra furniture, tools, old documents, off-season clothing, and rarely used appliances.
Additionally, it can be a suitable place to store surplus pantry items, emergency supplies, or hobby equipment. The key is to keep the storage room organized by categorizing items and using suitable storage ideas and solutions to ensure easy access when needed.
Periodically assess the contents of the storage room to determine if items can be donated, discarded, or relocated to more appropriate storage areas. This helps maintain an efficient and clutter-free storage idea space.
What is the purpose of storage rooms?
The purpose of a storage room is to provide a dedicated space for the organized and secure organizing of items that are not currently in regular use but still hold value or importance.
These rooms serve several key functions, such as decluttering living spaces by housing items that are not immediately needed, safeguarding possessions from damage or wear, and providing a centralized location for seasonal or occasional use items like holiday decorations, off-season clothing, or rarely used tools.
Storage rooms also play a role in efficient home neat organization, ensuring that belongings remain accessible when required and helping maintain a neat and uncluttered living environment. In commercial or industrial settings, storage rooms serve a similar purpose, allowing businesses to store inventory, supplies, and equipment efficiently.
Overall, storage rooms are vital for maintaining order, preserving possessions, and optimizing the use of space within both residential and commercial settings.
How do you organize a messy storage room?
To organize a messy organizing room, start by decluttering and categorizing items. Use clear bins and labels for easy identification. Invest in shelves and hanging storage for better organization.
Prioritize frequently used items at eye level. Maintain your system to prevent future clutter. This approach creates a well-organized storage space, making item retrieval easy and maintaining a clutter-free environment.
What is a storage/organizer room called?
A organizing room is often referred to by several names, depending on its purpose and location. Common terms include organizing area, storeroom, utility room, stockroom, or even simply "the storage."
In commercial or industrial settings, it may be called a warehouse, organizing facility, or inventory room. The specific name used often reflects the intended function of the room and the types of items it stores.
Regardless of the terminology, the primary purpose remains the same: to provide an organized and secure space for storing items that are not in regular use while keeping them easily accessible when needed.
Best Storage to Save Space for Every Room
Finding the right storage ideas and solutions for your home can be a time-consuming and overwhelming task.
You've probably spent countless hours searching through endless product listings and reading mixed reviews, only to end up with clutter and wasted space in your rooms.
Say goodbye to the frustration with our carefully curated list of the best and highly recommended home organizer options. We've done the research for you, analyzing thousands of reviews from verified customers on Amazon. Now you can easily find the perfect organizing ideas and solutions to maximize space and declutter every room in your home.
This article could include affiliate links, implying that I might earn a minor commission from product sales made through these links. Rest assured, all viewpoints are sincere and continue to reflect my personal stance.